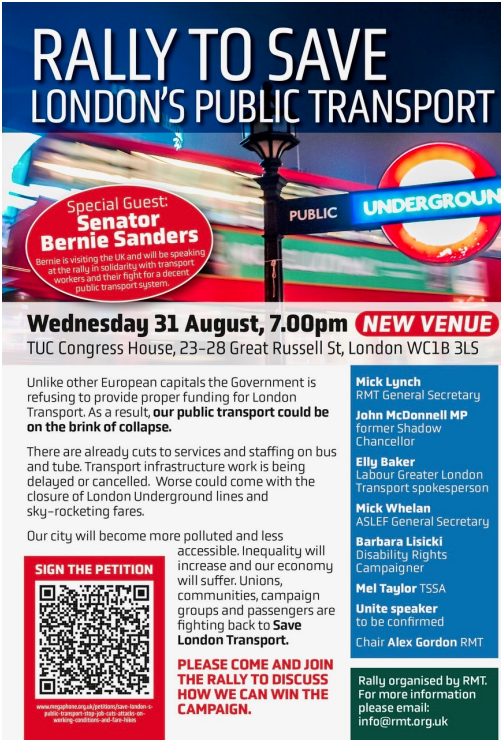 Ministers have been accused of "deliberately provoking" strikes as industrial action on the underground in London caused travel disruption.
Rail, Maritime and Transport union (RMT) workers walked out on Friday over issues including jobs and pensions, halting most services on tube lines across the capital's transport network.
The mayor of London, Sadiq Khan, accused the transport secretary, Grant Shapps, of provoking strikes as a precursor to legislation preventing future industrial action by trade unions.
"The way the government is behaving, it's almost like they're deliberately provoking strikes across the country, not just in the transport sector but in other sectors, as a precursor for legislation to curtail the rights of trade unions to go on strike," he said.
Khan said he and the RMT union were "on the same side here". "Nobody wants the government to be attaching unreasonable conditions to our deal," he said, and that it was "ordinary Londoners, commuters and businesses who are caught in the crossfire".
He added: "I'm keen to make sure we get the best possible deal for TfL [Transport for London] because we won't get a national recovery without a London recovery. We simply will not get a London recovery unless TfL fires on all cylinders. What we don't want are unreasonable, draconian strings attached by the government."
By contrast, Liz Truss, the favourite to become the new Conservative party leader and prime minister, said she would not let the UK be "held to ransom by militant trade unionists".
The TfL website showed services on the vast majority of tube lines were suspended, with a very limited operation elsewhere.
There was also disruption to bus services in west and south-west London and parts of Surrey. This was the result of a strike on Friday and Saturday by London bus drivers who are members of Unite, in a separate dispute over pay. TfL said 63 bus routes were being affected
The strike action came as rail union leaders warned that a long-running dispute over pay, jobs and working conditions would continue "for as long as it takes".
However, a new survey suggested that only one in eight people have had their travel plans affected by rail strikes. According to the Office for National Statistics, 13% of adults questioned between 3 and 14 August said industrial action had disrupted their plans.
Of those who said they had been affected, 4% said they had been unable to work, 4% had been unable to attend a medical appointment and 2% said they had been unable to care for friends or family.
On Saturday, rail workers will strike again, which will also affect Sunday morning train services. The Unite bus strike will affect London United routes through west and south-west London and parts of Surrey.
TfL urged people to avoid using the tube and only travel if essential on the rest of the network on Friday and until 8am on Saturday.
Across the country, tens of thousands of members of the RMT, the Transport Salaried Staffs' Association (TSSA) and Unite walked out on Thursday, resulting in about one in five trains running, with some areas having no services all day.
Mick Lynch, the general secretary of the RMT, said: "We're very sorry that people are inconvenienced. I mean, we're inconveniencing people that are in the same boat as us. We're ordinary men and women that want to do our jobs and provide a service, but when you're being cut to pieces by an employer, and by the government, you've got to make a stand.
"So we're making that stand on behalf of our members, but many other workers in Britain are suffering some very similar things and you're going to see a wave of this type of action. We can't stand by and watch our conditions be chopped up."
The strikes came as Downing Street denied that ministers were deliberately seeking a political fight with rail unions after both sides toughened their language further.
"The priority is on making sure people who use public transport can get to work, school and hospital appointments without such disruption," a No 10 source said.
Save London's public transport system Info
RMT is stepping up its fight to win full funding for Transport for London with the launch of an online petition.
The petition comes in the wake of the launch of an RMT campaigning document 'A Future for Public Transport in London', which makes the case for staff to be at the heart of a fully funded and rebuilt public transport system in London. The publication sets out not only the cost of cutting jobs before the crisis but also how more and better jobs are essential to rebuilding London's public transport after the crisis. RMT Campaign link